Kids scream on airplanes. Kids ask, "are we there yet?"
Little ones won't remember trips anyway, so it's not worth all the money & effort.
Think of all the luggage, Lisa. The luggage!!!
The reasons not to travel with kids are plentiful. I mean, if you were given the choice between taking a cross-country flight with a toddler or not… the answer kinda seems obvious, right?
Family travel has a unique set of challenges that cause a lot of us to either put it off altogether until kids are older or decide on taking me-time vacations while the kids stay with relatives.
As with anything of great value, of course there's a commitment and a good bit of energy required to making it happen (the purpose of this blog being to make that part a little easier! 😉) but there are real benefits of travel for both children *and* parents that I believe outweigh the barriers.
So let's take a few minutes to celebrate those! I hope through it you'll be inspired to pack up those bambinos of yours and hit the road!
1. More Time Offline & Outside = Improved Physical + Mental Health
Kids (and babies!) are spending more time than ever on average looking at screens (4-9hrs per day), and for many it has simply become habit, or just the thing to do. Average Americans are spending 90% of their lives indoors.
Even if you don't decide to hike the Grand Canyon or go camping under the stars in Yosemite, trips and vacations have a natural way of getting us outside much more than we do at home. And when we're outside we're moving, we're watching, we're experiencing. While science can't yet tell us exactly how much screen time is too much for our kids, it is clear that a little less of it mixed with a little more of being outside can do a lot for their physical health (eg. lower fatigue, inflammation, blood pressure) and their mental health (eg. lower anxiety, depression, concentration).
2. Stronger Skills in Adaptability & Flexibility
So, you should know that I'm a nerd when it comes to maintaining a little structure in my home. 🤓 My kid sleeps at the same time every day, we sing the same song at bedtime, and he has a specific corner dubbed for time-outs. But too much routine might not allow enough opportunity for our kiddos respond to situational changes, and could impact their ability to adapt and make decisions on their own as adults.
Adaptability and flexibility are skills that will serve our kids well in their lives and careers beyond their time at home, and taking your kids out of their normal routine and environment by traveling gives them the opportunity to develop those skills at a young age.
Have a picky eater? Have a baby that won't sleep anywhere but their crib? Traveling might just be the thing they need!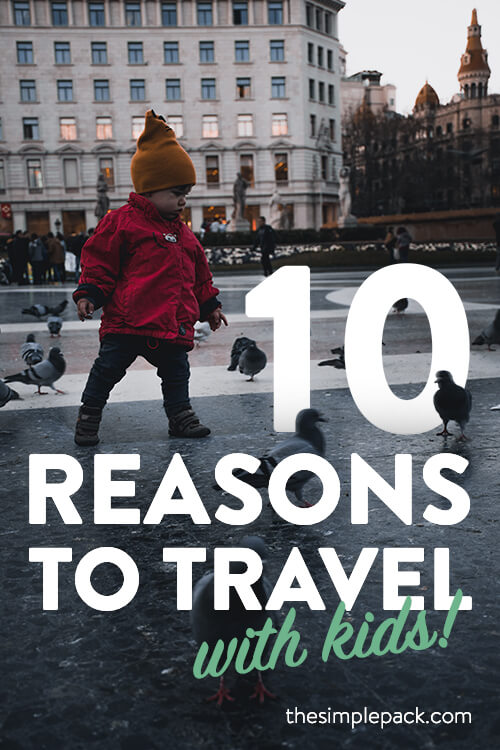 3. More Creativity & Imagination
For younger kiddos, say 10 and under, who are naturally more curious and excited about the world around them, travel can fuel that sense of wonder and take their creativity to new levels!
For older kids who are more aware of "how the world works" and are used to Googling anything they need to know, curiosity and wonder are fragile things that need to be protected. Travel, and the experiences of being immersed in new & unknown things, can help kids reignite a dwindling spark in their imagination.
4. More Meaningful Connections on Your Trips
How many times have you seen perfect strangers make faces at your baby just to make her smile? Or had an older couple reminisce to you about their children after seeing you with yours?
Family runs deep, in every culture. Kids have a way of reminding us where we've come from and a way of breaking down walls to recognize the common humanity in others. Because of that, traveling with your kids can serve up some unique opportunities to connect with others and open doors for interactions that you might not have had otherwise. What better way to spark conversation with locals and go deeper on your understanding of the people in the place you're visiting?
5. Exposure to Other People & Cultures
This one is, well, pretty obvious! Whether you're planning a trip to a faraway land or traveling a few hundred miles to visit family, early exposure to other people, cultures, languages and ways of living will instill an early appreciation for things that are different than what they are used to.
It was Mark Twain who wrote, after sailing the Mediterranean in 1869, that, "Travel is fatal to prejudice, bigotry, and narrow-mindedness, and many of our people need it sorely on these accounts. Broad, wholesome, charitable views of men and things cannot be acquired by vegetating in one little corner of the earth all one's lifetime."
Well said, Mark! 👏 Let's build a strong future for our kiddos and equip them to defeat prejudice, bigotry and narrow-mindedness.
6. Forced Bonding, Baby!
How many parents find themselves working 8am-5pm workdays? Where time spent with kids in the morning is usually rushed, and time in the evenings is usually when everyone is tired, hungry, ready to be done for the day? That doesn't leave a whole lot of optimal bonding time during the week.
One UK study found that 1 in 6 fathers say they do not know how to play with their child and a third say they simply don't have the time to play. I'd venture to say that being removed from the stresses of home while being immersed in shared experiences & shared living spaces will provide amazing opportunities for families to bond and play together. The best reason to travel with your kids then might not even be the destination itself, but the unique opportunity that it will provide your family to engage with one another and get close!
7. Kids Will Remember!
So often I hear that it's just not worth it to travel with kids until they're old enough to remember the experience. Sounds reasonable, right? But I've got a couple thoughts on this one!
It's for the parents, too!
Let's say "old enough" is age five. So at minimum, you've got to wait five years to take that trip you didn't get around to before having kids. Oh but then your child starts kindergarten and you don't want to take them out of school. Wait until summer. Oh but you have a second child? Add 2-3 more years to that. A third? Add 2-3 more years to that. Now we're talking 10-12 years of waiting for the "right time."
The "First 5."
The first five years of our kids' lives are the most critical years of their development. We talk to our babies before they're able to speak back to us. We teach them songs that they can't sing along with until they're older. We mash up veggies for them so they can acquire a taste for them before they know how to chew. Every day we expose our kids to new wonders that they will never specifically remember, with hopes of laying a strong foundation for their growth and character development.
I believe that the shared experiences of family travel can nurture family connection (see #6) and can enrich the education, imagination and sense of wonder in our children (see #3 and #5)… and that can set quite a tone for their years beyond!
8. Kids Enhance the Experience
Oh the questions they'll ask, the observations they'll make! The things you'll consider that you never would have without them!
It's true that you'll find yourself going at a slower pace when you travel with kids, but that just means you'll have more time to notice things, more time to stop and enjoy things. Much as we hope to inspire a sense of wonder in our kids, I think they're pretty good at doing the same for us if we let them.
9. Kids Become Contributors vs. Passive Participants.
When you're in a new place, the pool of passive activities becomes much smaller for everyone, and routine activities have the potential to become team building exercises. Travel has a way of naturally involving your kids in processes and conversations that don't require much thought at home.
For instance, "It's time for dinner" instead becomes, "What should we try tonight?" + "Who can map us there?" + "Who can translate this to the waiter?" + "Did you see that awesome thing on the way?"
Giving your kids a little ownership of the traveling experience and allowing them to contribute in some of the decisions is just another way that can boost their confidence & independence while nurturing your family connection. Win, win!
10. Leave the Guilt, Take the Cannoli
This one may be more true for parents of little ones, but when you travel with your kids you don't have to worry about how they're faring without you. You don't have to spend 75% of your trip feeling guilty about your choice to leave them at home and wonder if you made the right decision. You get to be fully present!
---
So now the question is… where to?!