Family vacations have a uniquely wonderful way of putting parents on edge.
There's the pressure we put on ourselves to make them magical and memorable. Then, there's the hard job of getting your responsibilities covered at work, doing all the laundry, getting the kids packed, remembering to buy motion sickness bands…
Then, by the time your plane is in the air you realize you forgot Kevin. (Kevin!!!!) 😱
If I can urge parents to do 2 things, it's these:
Please, don't forget Kevin.
Don't forget the #1 overlooked item on your packing list… a level head! Take a few minutes to slow down and have what I call a Pre-Trip Huddle with your partner to ready your minds. It'll make all the difference in helping you actually enjoy your trip!
The Pre-Trip Huddle: What is it?
The Pre-Trip Huddle is meant to be a way for you as parents to connect about your trip, to define simple roles & expectations, and to make a plan for how you'll handle any foreseeable challenges during your trip.
From simple logistical things like:
Who is going to drive the rental car?
Who is in charge of the kids' boarding passes?
Are we gate-checking the stroller?
To the "why"s and "how"s of what you want your trip to look like:
Are we planning to see all the things there is to see? Or, are we going to spend more time lounging by the pool and finding the best local ice cream?
Are we planning to unplug from technology? Or, will we be posting live updates & beautifully curated photos to our Insta community?
We might not want to admit it, but being surprised by any of these things on a trip has the potential to spark a pretty good vacation argument between couples! The huddle is just an opportunity to make sure you're on the same page ahead of time. There's already enough to figure out on-the-fly when you're navigating a new place with a family, so why not do a Pre-Trip Huddle and take out the guesswork on the things you can?
Get honest about your expectations. Find out how you can support each other. And most importantly, have FUN dreaming about the experiences you're creating together for your family!
Why is it important?
Family trips are special, and we have a way of attaching unattainable expectations to them. We look forward to them for so long, we spend hard-earned money on them, and everything's supposed to be magical, darn it! Then, as soon as something is less-than-magical it stings a bit more than it would at home. As a result, we let our exaggerated feelings of disappointment and frustration get the better of us. And everyone feels it.
When Mom is griping at Dad because he missed that right turn again (ugh!), or Dad is overreacting to the slightest bit of whining because he's upset about that flight delay (come on!)… these are the things that set the tone for your *and* your kids' enjoyment of a trip, not the circumstances themselves.
The real thing that can make or break a trip is the attitude you carry with you. Taking a few minutes to slow down and prep your mind for the whirlwind that is a family vacation… that's just as important as remembering the sunscreen and vitamins. A child can be blissfully unaware of missed turns and flight delays when given to the spirit of adventure! When the parents handle a situation in stride, the kids are more likely to follow suit.
So, take the time to prep your mind as well as your suitcase! Connect with your partner and commit to making your trip a success together, no matter what happens along the way. We can make all the best plans to do and see all the best things, but in vacations as in life, we can't control every outcome. We do have the power to choose how we respond, though, and a healthy response can have a positive impact on everyone involved!
WOOP It!
This is a fun exercise I like to incorporate into the huddle to help define what a successful trip looks like and how you can make that happen together! W.O.O.P. is an acronym that stands for Wish, Outcome, Obstacles, Plan. (Thanks Gabriele Oettingen for this little gem.) 🤓
Wish is the big picture dream/vision. Outcome is the best possible product of achieving your wish — how has your family improved, how do you feel as a result of your experience together? Obstacles are any personal challenges that could prevent you from achieving your wish. Plan is what you're going to do to overcome obstacles and work together towards making your family vacay wish come true! ✨
So if you need some help getting the huddle conversation rolling, just WOOP it! Here's a quick sample to give you and your spouse a starting framework: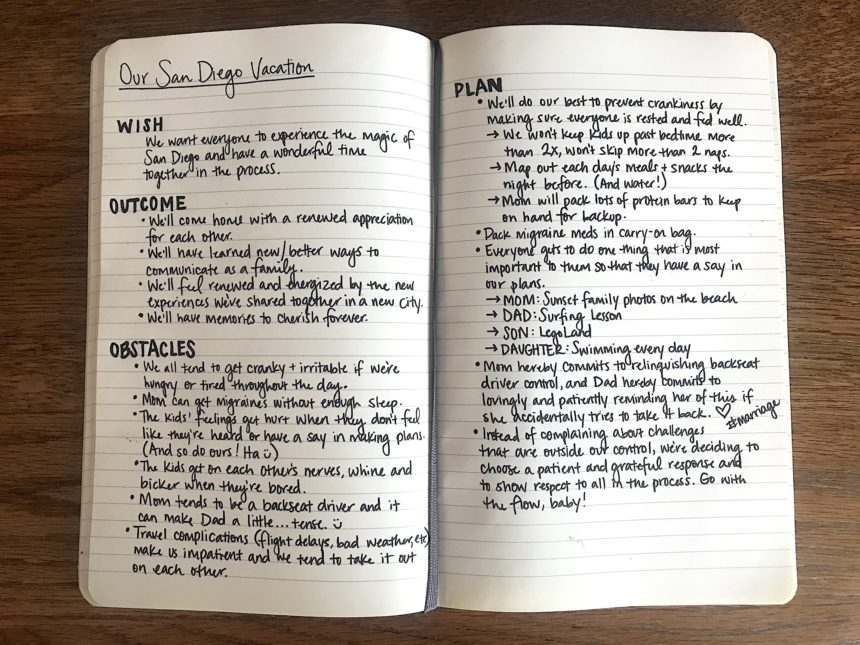 For Parents of Infants/Toddlers (ages 0-5)
Emotions can tend to run a little more wild for the young ones when their routines, sleep and nutrition are thrown off. So in your Pre-Trip Huddle, be sure that you're connecting on how to support your child in these areas, especially on the days where you know schedules will be much different than what they're used to.
This could be something as simple as, "let's try not to skip more than 2 naps on this trip" or "let's not keep the kids up past bedtime more than twice."
You know your child, so if you know that an especially long travel day could trigger a meltdown, get those backup plans ready! 🙂
Oh also! Will you be braving a theme park or doing anything that will require long stretches of standing in line? Be sure to talk about how you plan to keep your little ones occupied and happy.
For Parents of Young Children (ages 5-12)
When I was 8 years old, my family took a trip to Washington, D.C. Even though I was a child, I'll never forget being able to see President Clinton leaving the White House in his helicopter, or Sonny Bono speaking in the House Chamber.
But I was also an 8-year-old who wanted to be a mermaid. So, with a jam-packed schedule of museums, monuments and all things "educational," my sense of wonder could only last so long without daydreaming about the hotel pool. (A big thank-you to my mom who bypassed going to the Smithsonian to stay behind and take me swimming. You made my mermaid dreams come true, mom! Even though I kick myself for that now.🙈)
The moral here: Mixing in a bit of fun and silliness will go a long way in giving your younger kiddos a good time! Make sure in your Pre-Trip Huddle that you're setting reasonable expectations for their behavior by creating space for down-time in between all the sight-seeing and commuting.
For Parents of Teens (ages 13+)
Consider incorporating your teens into the huddle! Giving them a bit of ownership in the trip preparation could be a great way of getting them involved. Think of how you could strengthen their street-smarts by giving them some jobs to perform on the trip. Or, deepen their emotional intelligence by incorporating them into your WOOP process. Show them that you respect them on a more "grown-up" level and see how they rise to the occasion!
---
Have you and your spouse given the Pre-Trip Huddle a try? I'd love to hear how it helped!
As always, much love + happy traveling!
Lisa